Cultural Sustainability Class II, March 17th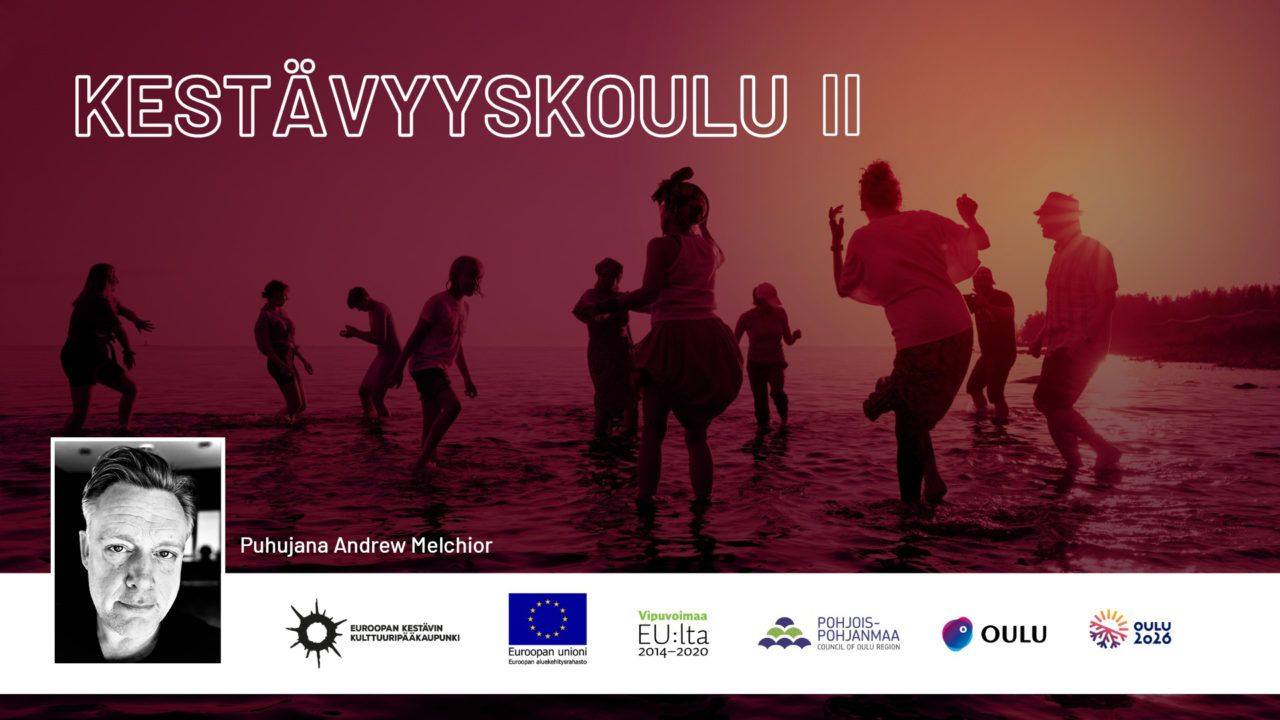 Welcome to the second Cultural Sustainability Class. This time we will have the pleasure of learning from Andrew Melchior, an international creative technologist and a forerunner of green innovations, for one Friday afternoon. And if you feel like it, you may also spend a fun evening with fellow cultural producers. The event is free.
Schedule on Friday, March 17th
12:00 Welcome Lunch at Restaurant Rauhala
13:00 Andrew Melchior: Inspirational speech for event organizers
14:00 – 16:00 Workshop at Voimala 1889: Art, Action and Climate Change
16:00 Afterwork Session at Tuba Food and Lounge
21:00 Concert at Voimala 1889: Dule and Viitala & yhtye
Getting Inspired by Andrew Melchior
Andrew started his career as manager and producer for the UK band Elbow, eventually working alongside Sir George Martin and David Bowie at EMI Records, where he initiated and developed digital content and marketing innovations for mobile platforms and internet audiences. His most recent work with Robert del Naja from Massive Attack includes the remastering of their classic 'Mezzanine' album into synthetic DNA and leading the band's experiments in augmented reality, machine learning and robotics. As producer of Björk's first virtual reality album 'Vulnicura VR' his development of real time telepresence and spatial audio techniques have advanced core technologies for performers creating and presenting their creative work in immersive media. His current sustainability focus includes development of low carbon touring solutions and advanced modeling and simulation projects for future protein farming and designing dynamic digital twins of marine robots.
Workshop: Art, Action and Climate Change
Participants are free to present their own responses to what is happening to our planet and to discuss how arts and science can help to create a symbolic language and help us to modify our perceptions and adapt to change. We will also invite three cases to present their ideas based on their own event or festival productions.
When you register, you may choose if you want your project to be reviewed by Andrew. All three projects get the stage for half an hour and will receive customized guidance from our expert. The audience at the workshop is invited to participate in the discussion concerning topics such as:
• Who and what has inspired you – and what has most motivated you to contribute to the creative narrative with your works and actions?
• In which sustainable ways have you considered to develop your event towards 2026?
• What role could new digital solutions play in these plans?
After the workshop we invite you to join us for a beer and afterwork session at Tuba Food & Lounge, and later in the evening to a concert of two Oulu-based indie artists at the same venue as the workshop. The Most Sustainable European Capital of Culture Project provides lunch, coffee and tickets to the concert to all attendees (beers and drinks are self-funded).
Registration:https://www.lyyti.in/Cultural_Sustainability_Class_II_7239
Registration ends 13.3.